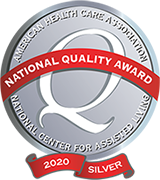 Church Home healthcare earns 2020 Silver National quality award
Perry, Georgia – Church Home Rehabilitation and Healthcare has been recognized as a 2020 recipient of the Silver – Achievement in Quality Award for its dedication to improving the lives of residents through quality care. The distinction is the second of three progressive award levels through the National Quality Award Program, presented by the American Health Care Association and National Center for Assisted Living (AHCA/NCAL), the leading association for long term and post-acute care. The program honors association members across the nation that have demonstrated their dedication to improving quality of care for residents and patients in long term and post-acute care.
"It's an honor to again be recognized for our commitment to delivering quality care," said Kathy Gibbs, Administrator of Church Home Healthcare. "High quality of care has long been a priority at Church Home. We are supporting that care by growing our skills in quality management and continual process improvement."
The National Quality Award Program, which AHCA/NCAL established in 1996, is based on the core values and criteria of the Baldrige Performance Excellence Program, which is also the foundation of the metric based AHCA/NCAL Quality Initiative. The Baldrige program helps organizations in different business sectors improve and achieve performance excellence.
The Award Program has three levels: Bronze, Silver, and Gold. At the Silver Award level, applicants continue to learn and develop effective approaches that help improve performance and health care outcomes. The Silver criteria, based on the Baldrige Excellence Framework, provide applicants with a thorough assessment of how their organization works, its effectiveness, and tools for improvement in their approaches. As a recipient of the Silver Award, Church Home may now move forward in developing approaches and achieving performance levels that meet the Gold – Excellence in Quality Award.
"I commend Church Home for continuing on the journey to quality improvement," said the AHCA/NCAL National Quality Award Board of Overseers Chair Alana Wolfe. "Church Home is one of only 18 facilities in Georgia receiving the Silver Award in 2020."
About Church Home/LifeSpring
Church Home/LifeSpring offers nursing and rehabilitation services for seniors throughout middle Georgia. Tracing its history to 1939 when the members of Christ Sanctified Holy Church opened the original Church Home for the Aged, the facility has undergone numerous expansions and renovations. In 2014, the LifeSpring rehabilitation center opened to provide state-of-the-art services for those needing short-term support following surgery or a medical event. A 10-bed expansion to LifeSpring opened in 2016, allowing the facility to expand its care to more area seniors. Based on recent State surveys, Church Home/LifeSpring is the one of the highest rated facilities in Middle Georgia.
About Author